"Between them Tom and Chris have over 50 single-let properties, not including the apartments, so they must be doing something right!"
​We found this deal via a high street estate agent. No prior contacts or special investor lists, we just called them up and arranged a viewing! Amazing right? The building started life as two shops with accommodation above but had been badly converted by a previous owner into 3 x 1 bedroom flats and 1 x 2 bedroom flats.
On our initial viewing, we discovered that the flats were not only poorly laid out but that the building had serious structural problems. These were caused by a combination of subsidence, soft ground, and corner cutting by previous builders. The result was a building that had some pretty serious cracks and "fun house" style sloping floors! Tom got sea sick just walking around.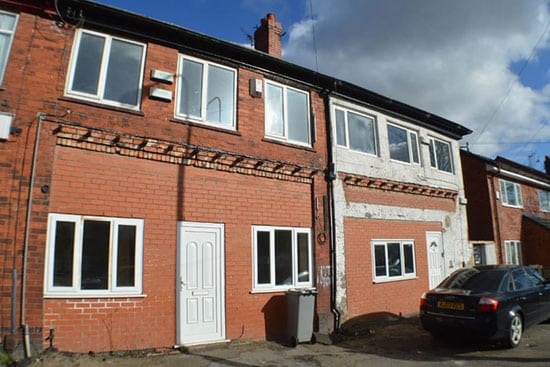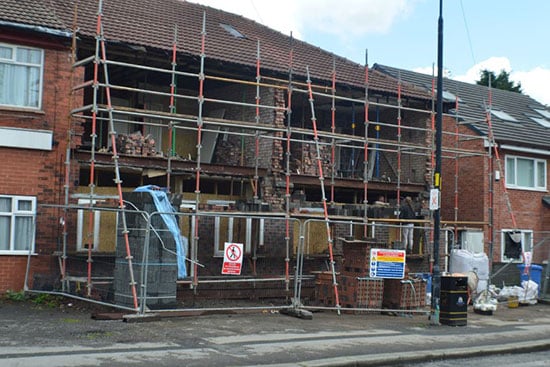 The property was a repossession so we knew next to nothing about the building's history, legal title, lease and so on. We crunched the numbers and once we'd decided there was a deal to be done we quickly put forward an initial offer for full asking price in order to secure the deal and deter any competition. We then spent nearly £1,000 on structural surveys. It turned out this was the best return on investment ever as we managed to get around £25,000 off the asking price using the power of the building surveyor!
Our 'edge' in this deal was that we realised that with some simple layout changes, we could create 4 x 2 bedroom flats which would significantly increase the value and the rental yield. We also discovered that many of the structural issues could be corrected without the use of expensive underpinning which could cut our renovation bill. In addition, we loved the location of the building in an up and coming area of Manchester – Stretford. We knew it was the cheapest £ per sq ft building in the area, even taking into account the work that needed doing.
The main works involved carefully propping the upper floors before removing the entire front wall of the building (see picture), repouring a much deeper foundation and then rebuilding the front wall in block and brick to properly support the rest of the building. Although this looked drastic (and was pretty terrifying), it was badly needed as our surveyor told us that the building would have probably fallen down within 5 years unless it was corrected!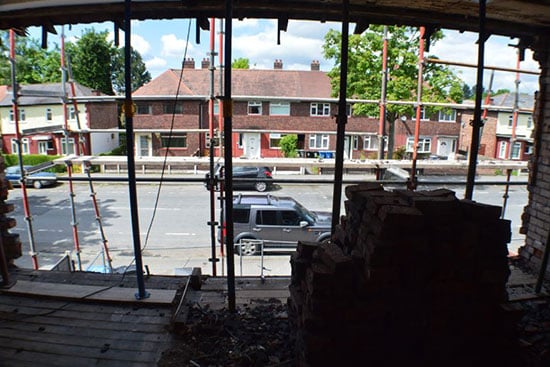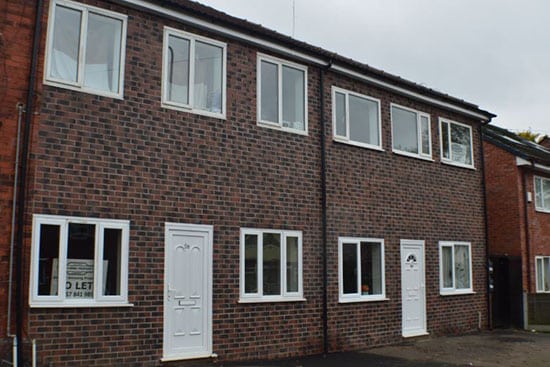 Pro Tip – When you remove the front wall of a building, don't forget that you need to instruct a security firm to come along and make the building secure until you build the new front wall.
Yep, definitely don't forget to do that.
With the building stripped bare, we took the opportunity to significantly improve the layout. Chimney breasts and some of the internal walls were removed to create more space. We also changed the position of some of the doors and windows to create bigger, airier rooms. Sound insulation, fire protection and thermal insulation were also upgraded to exceed modern standards and future proof the development.
This allowed us to create 4 lovely 2 bedroom apartments that all ended up being rented out for £100 per month more than the surveyors valuation. As you can see from the figures we had £100,000 in equity once we'd finished the project, and because the market has been strong that has since risen to over £200,000 today.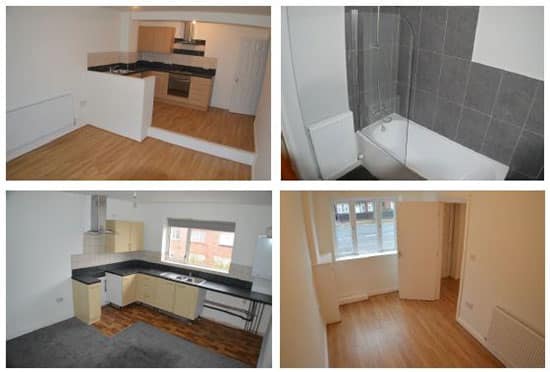 "You were only supposed to blow the bloody doors off"
Michael Cain – The Italian Job
Alexandra Road, Ashton-under-Lyne
We found this deal on Rightmove and initially dismissed it because it seemed really expensive as it was listed as a 2 bed terrace on an ordinary street in Ashton. However, once we contacted the agent we discovered that it was actually a 3 bed terrace with a shop unit below included. It was basically a 'Buy one, get one free' deal!
Having had a good look round the property, we decided that it could be converted into 2 x 1 bedroom flats and 2 x studio flats. Although there was no planning permission in place and there was a lot of work that needed doing, we decided to buy the building based on the fact that we were essentially getting a building the size of 2 x 2 bed terraces for the price of 1!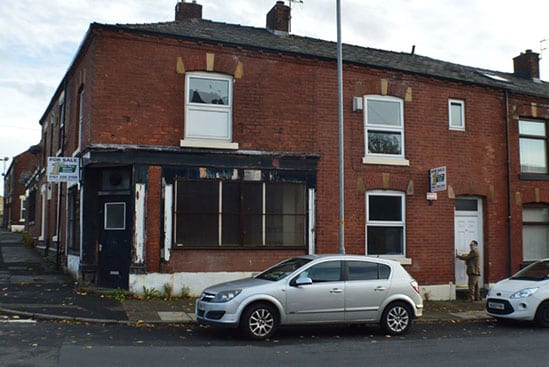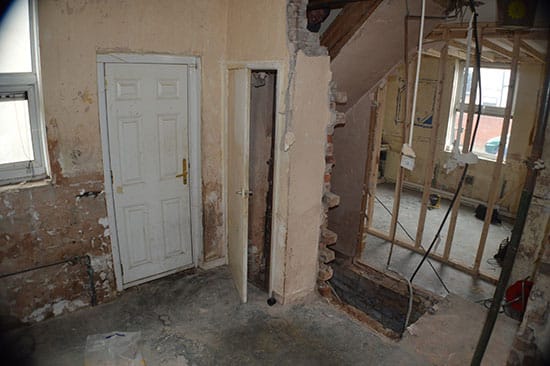 We submitted a pre-planning application which is a formal way of asking the council planners for their opinion on the proposed development and how likely it was to be passed. Having had good feedback at pre-planning we submitted a full planning application and sat rubbing our hands waiting for permission to be granted so we could get started on the build. Needless to say, the planners refused planning permission (despite their positive noises at the pre-planning stage) based on the size of the proposed flats.
Fortunately we had a plan B ready, as we were acutely aware that there is always a risk with going for planning permission. Our Plan B came in very handy in this case as we were continuing to pay expensive interest on the private finance we had used to buy the building. Plan B was to refurbish the property to create a House of Multiple Occupation (HMO) with a commercial unit that would serve very nicely as our Great Northern Property Company headquarters. We set about the renovations and with the help of some structural steel and removal of stud walls, we managed to create a 5 bedroom HMO with a stylish office thrown in for good measure.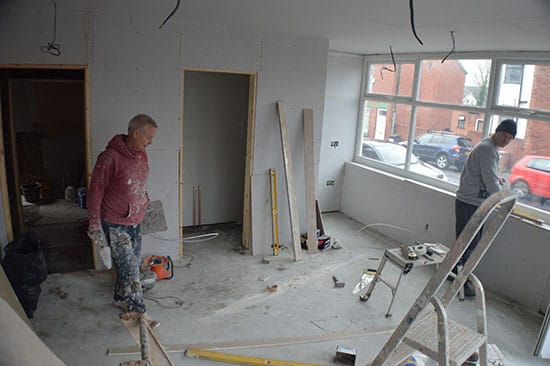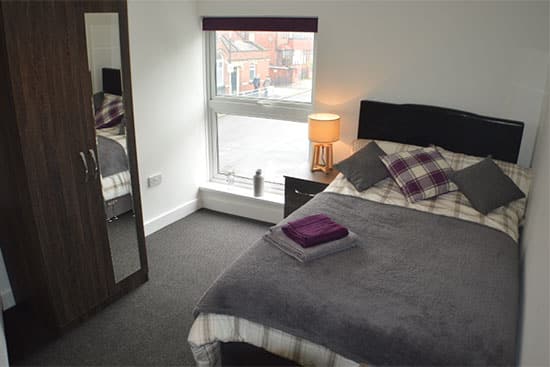 Pro Tip – Having a viable Plan B is one of the things we advise all of our mentoring clients to do.  It reduces your downside risk, and therefore your stress, with any development.
As part of the renovations, we were careful to leave a connecting door from the office into the main house and put an en-suite with shower in the office so it could be used as an extra bedroom in case we ever wanted to move our offices in the future.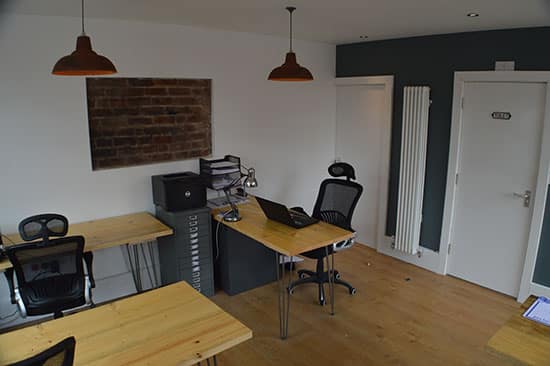 We found this deal through our professional network, we have always made sure that our contacts know that we're looking for buildings to convert to blocks of apartments. And so it was that a Building Surveyor friend contacted us to let us know that he'd been working on a project but that it seemed to have stalled and the owners were considering selling it quickly to free up funds for another project.
We first viewed the property on the 23rd December, which told us straight away that the vendors were keen to sell quickly as everywhere had shut up shop for Christmas and they had travelled specially from London to meet us!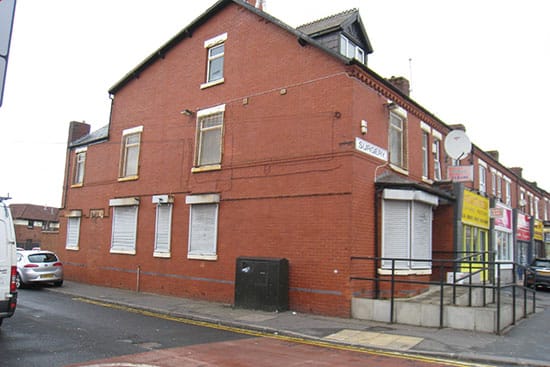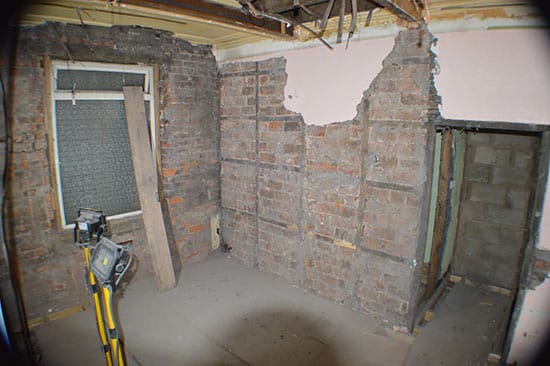 It had planning permission for five apartments already and so after crunching our numbers we agreed a sale price on the 4th January and completed the deal on the 4th February, exactly a month later, which with a project of this size was no mean feat!
Our 'edge' in this deal was that Tom had found out about a grant that was available from Salford City Council at the time for £10,000 per apartment, so £50,000 total with no strings attached! Well, the only string attached was that we had to complete the project (apart from snagging) by the end of the financial year at the start of April! Although that added real time pressure in another way it helped us to focus on achieving the goal and kept things moving because we knew we had a hard deadline to hit.
It wasn't plain sailing either, we had problems with our main contractor. They were a big company who had many projects on at the same time, and ours was the smallest, the runt of the litter. As a result we were assigned people who were' 'left over' from other sites. During the fairly short project we had three different forepeople for example, and they were changed overnight and without our knowledge or consent.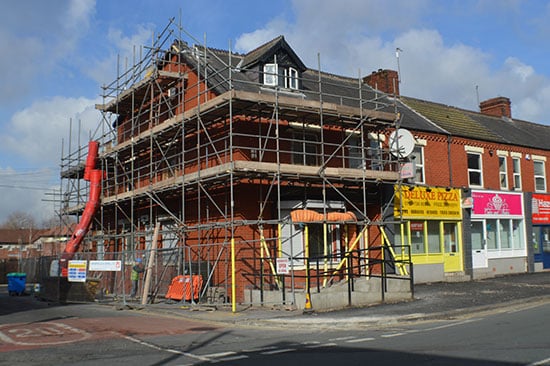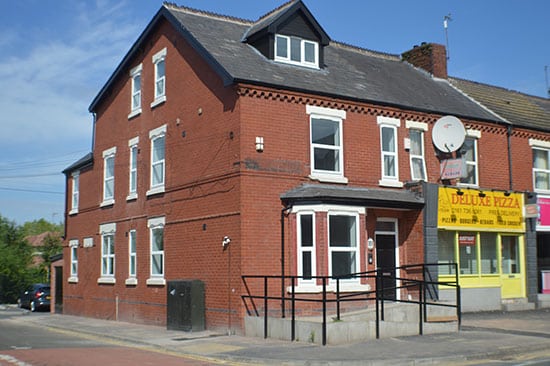 Pro Tip – We learned from this project that it's very important to have someone on site (usually the foreperson) who remains in place and keeps a close eye on what's going on.  That includes the sequencing of jobs running smoothly and to time.
Because that didn't happen we had to step in and take on aspects of that role ourselves. We were loathe to do it, but it was the only way to get the project done on time. Helping to ensure the smooth running of the site was a challenge as we often had more than a dozen tradespeople working on site at once, we had to learn about project management quickly!.
In the end we completed the conversion of a tired Doctor's surgery into 5 finished apartments in nine weeks flat, a job that would normally have taken double that. We passed the final inspection from the council (even if some of the finishing touches weren't completely finished) and they released the £50,000 grant monies.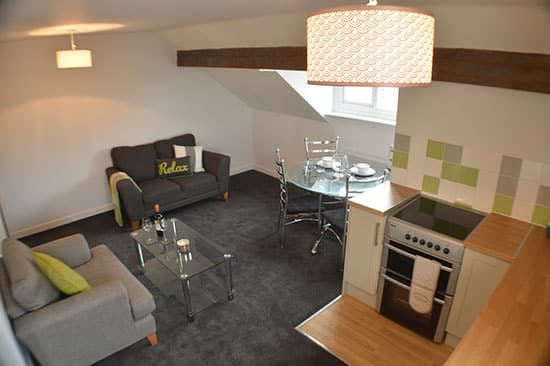 Captainfold Road, Little Hulton
"I've been told there's a pig in the garden?"
Tom Dylan – to the tenant, on first arriving at Captainfold Road.
Captainfold Road Crescent is a 3 bedroom house in West Manchester that we bought in 2016. There was nothing particularly remarkable about this deal except perhaps what the Sports Science community call 'Marginal Gains'. Put another way we'd made plenty of mistakes on previous deals, but we'd always learned from them, so that by the time we came to buy this house we had the experience and learning behind us to take advantage of a nice little deal that other people might have missed.
We were passed the deal from a mortgage broker contact of ours, who knew the kind of deals that we look for, partly because we'd told her and partly because she'd been organising the lending on the properties we'd been buying. Then we spotted that although there didn't seem to be much of a discount on the property, it was actually quite a bit bigger than others on the street, and had a bigger garden. That was our first 'edge'.
Our second edge was Lily. Or rather, it IS Lily. Lily is a quarter tonne of Vietnamese Pot-Bellied pig which the tenants had bought as a 'micro-pig'. Lily had stubbornly refused to stop growing. A micro-pig no more, her enclosure takes up two thirds of the (large) back garden. As novice investors Lily would have terrified us, but now we saw an opportunity.
Sure, keeping a large farm animal in your rental property is unconventional…but on the other hand who else is going to take her on? Also it's not like Lily comes inside and treads mud into the carpet (unlike a dog or cat). Once we started to see LIly as an asset, there was one thing we needed to find out, and so it was one wet February evening that I found myself googling, 'How long do pigs live?' 25 – 30 years it turns out depending on the breed.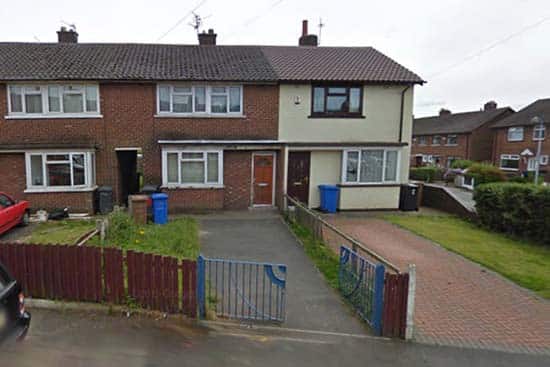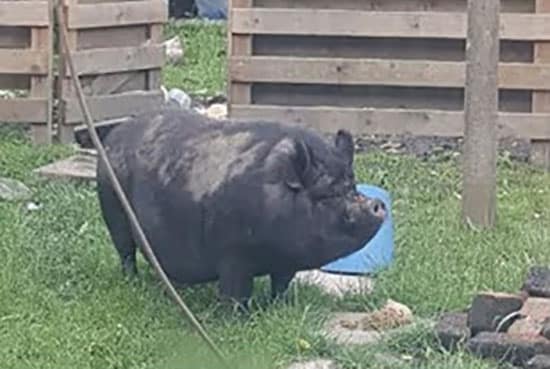 Pro Tip – Only buy rental properties if they have at least a quarter tonne of mobile sausage living in the back garden.
Lily had just turned 4, and so we had more than 20 years of porky goodness making her home in our back garden. So we spoke to the owner, found out what his REAL bottom line was (£15k less than he'd originally asked for) and agreed the sale. He was so happy with how the sale had gone that afterwards he contacted us to ask if he could invest with us, and of course we were happy to accommodate him!
Sure enough, since we bought the house the tenants have never moved, and never missed a rent payment.